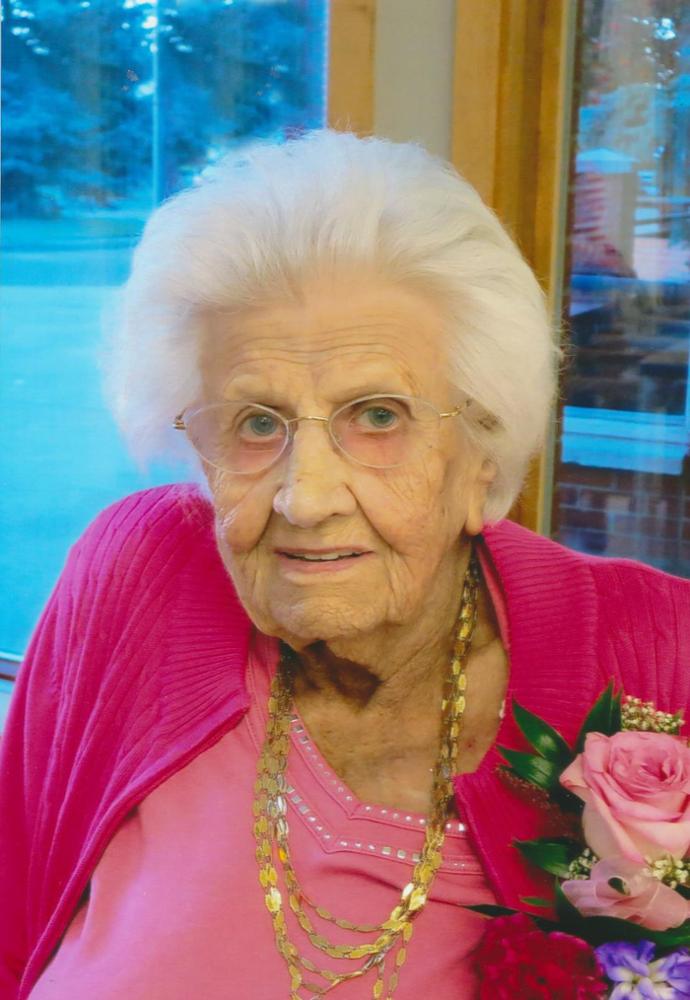 In Memory of
Anneliese "Anna" Meding
1920 - 2015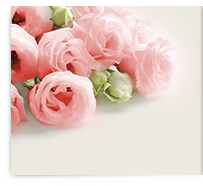 Obituary of Anneliese Meding
MEDING - Anneliese (Anna)
October 5, 1920 - April 30, 2015
It is with deep sadness that we announce that our sweet Mom, precious Grandma and Oma, Anneliese (Anna) Katherine Meding, passed away peacefully with the love of her family at her side.
Mom was born at home at Pfeilsdorf West Prussia (Germany) on October 5, 1920, the eldest of six children, to Franz and Katherine Jakob. Her parents made the decision to leave Germany and come to Canada in 1924. They, along with two little girls, Anneliese and Christel, sailed on the small ship Carmania, arriving in Quebec City on August 10, then across Canada by train, arriving in Trochu on August 19, 1924. Mom remembered getting off the train at the station in Trochu and being greeted by family.
Mom grew up east of Trochu. She started school in 1928 in Trochu living with her aunt and uncle. Because she was homesick her parents let her come home and she finished grade one at Harrow School. Until she was old enough to help on the family farm, she attended Harrow School, driving a horse and buggy in the summer for 31/2 miles each way.
On April 11, 1945 Mom married Dad (Arthur Meding) at St John's Lutheran Church in Trochu and together they farmed east of Trochu until 1999. She worked hard on the farm, raising chickens, milking cows and growing big gardens. Mom loved her roses, her yard and baking. Mom and Dad raised their four children on the farm, instilling in them a great work ethic. In 1973 Mom and Dad built a new home in Trochu, leaving the home farm to their son, Wally and Anne. Art and Anna had many wonderful holidays to Hawaii with good friends. They also
travelled to Germany, Poland, Spain and the Canary Islands. Mom and Dad also travelled to South America, including Argentina, where they met many of Dad's relatives.
Mom lived in her own home until December2002, then moving into the home of Frances and Harvey Simpson, who provided wonderful, loving care. In 2006 she moved into Golden Hills Lodge in Three Hills until February 2013 when she moved to St. Mary's Lodge in Trochu. She enjoyed being back at "home" in Trochu. On March 23, 2015, she entered the Three Hills Health Care Centre, where she passed away on April 30, 2015.
Mom was predeceased by her loving husband Art of 53 years in 1999; son, Wally in 1981; grandsons, Michael Meding in 1971 and Wacey Meding in 1996; great grandson, Jacob Knievel in 2010; her parents Katherine Jakob in 1968 and Franz Jakob in 1975; brother Richard Jakob in 1972; and sisters Gerda Stankievech in 1969 and Ursula Stankievech in 2002.
Mom is lovingly remembered by her family; daughters, Marlene (Edward) Knievel and Sandra Meding; son, Ernie (Gwen) and daughter-in-law Anne (Greg) Frolek; 9 grandchildren Brett Knievel, Paula (John) Kowalchuk, Ryan (Carrie) Knievel, Amanda (Bob) Reitenbach, Marianne (Leith) Cox, Lindsay (Patrick) Gaudet, Brianne Lovstrom, Cheyenne Meding and Laramie Meding; 9 great grandchildren, Jayden, Kassidy and Kaley Kowalchuk, Abigail and Chloe Knievel, Carly Reitenbach, and Emma and twins, Nolan and Hannah Cox: sisters Christel Jakob and Lily Campbell: brother in-law Walter (Agnes) Meding: sister in-laws Freida Meding, Lila Meding and Maxine Meding.
Funeral services were held at St Anne of the Prairies Church in Trochu on May 6, 2015 @ 10:30 am, Pastor Nic Wasylowich officiating.
In lieu of flowers, memorial donations in Anna's memory can be made directly to St. Mary's Health Centre, Trochu or Charity of Donor's choice.
Share Your Memory of
Anneliese
our locations
Sunset Funeral Service Ltd.
253004B Twp Rd 304
2.5 KM east of Linden, AB

Sunset Funeral Service Ltd.
311 Arena Ave.
Trochu, AB

administration
Sunset Funeral Service Ltd.
Box 559
Linden, AB
Phone: 403-546-3903
Business Office located at:
253037 Twp Rd 304
2 km east of Linden, AB
Toll Free: 888-546-3903

Associations