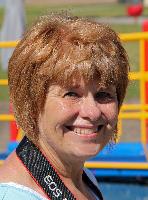 Eleanor Margaret Braun
Eleanor Margaret Braun (nee Klassen) was born on October 14, 1949 in Winnipeg Manitoba, the second daughter of Isaac Klassen and Mary (Donst) Klassen.
Eleanor made a commitment to be a follower of Jesus Christ as a young teen through the influence of Wally Weiser and other cousins, a message she had not heard in her own church.
In 1966, when Eleanor was about 17, the family moved to Kelowna B.C. due to her father's health concerns. They were thrilled to attend Kelowna Gospel Fellowship where the Gospel was preached. It was a time of great spiritual growth for Eleanor. She was baptised upon her confession of faith by pastor Jake Enns on July 23, 1967. After grade 12 she felt led to attend Bible School. Through some unusual circumstances she attended Burrard Inlet Bible Institute.
It was there that she met fellow student Mal Braun. After graduation they were married in Kelowna on December 19, 1970. Mal and Eleanor lived in Quesnel BC where Mal was employed at a lumber mill. They entered Pastoral Ministry in August 1972 with Village Missions, being posted to Tahsis BC on the west coast of Vancouver Island. Over the next 40 years they served in Nova Scotia, Kelowna, Saskatoon, and more recently as the Conference Pastor of the Northwest Mennonite Conference in Alberta. Finally they served as interim pastor at their home church, West Zion Mennonite in Carstairs until retirement in April 2014. Eleanor served together with Mal and developed a strong and effective teaching ministry in the churches for many years. Eleanor particularly loved the Prophets of the Old Testament.
Eleanor and Mal were blessed by a family of three sons: Jonathan David on September 7, 1976, Darrell Isaac on February 16, 1978 and Timothy Randall on April 9, 1980.
Eleanor invested herself without reserve in the lives of her sons and their Christian commitment. She was particularly focused on the music development of her sons. Her perspective was that music skills would last a lifetime.
In the last decade she devoted herself to photography. Birds were her special interest. She loved to photograph birds at the marshes at Bergthal and the Inglewood Bird sanctuary. Eleanor was an organized person and there are thousands of pictures in scores of files. Eleanor's character is revealed in that upon winning a cash prize for a photo, instead of spending it upon herself, donated it to charity.
Eleanor is survived by Mal, her spouse of 44 years. At their 40th anniversary friends presented her with a trophy for heroic efforts in living with Mal.
Eleanor is also survived by son Jonathan with spouse Magan and grandchildren Jack and Katelyn of Claresholm Alberta, by son Darrell with spouse Jessica of Saskatoon Saskatchewan, by son Timothy with spouse Juanita and grandchildren Kaleb and Luke of Martensville, Saskatchewan.
After several years of declining health, Eleanor passed into the presence of the Lord Jesus Christ whom she loved and served, at Foothills Medical Centre in Calgary at approximately 6am Monday April 27, 2015 as the result of liver failure.
"Whom have I in heaven but you? And earth has nothing I desire besides you. My flesh and my heart may fail, but God is the strength of my heart and my portion forever." Psalm 73:25Funeral services were held April 30, 2015 at West Zion Mennonite Church, Carstairs, Alberta with interment in West Zion Mennonite Cemetery.